With The FCA now focusing on the implementation of MiFIDII and with the SMCR and GDPR also on the way, we are now seeing far more focus on disclosure, transparency, accountability, roles and responsibilities.
What is clear is that 'old school' compliance tools and techniques have been found wanting. The FCA suitability review paper, which found 41.7% of firms assessed breached disclosure rules showcased this.
So it is quite clear then that 'tickbox' compliance has failed. The process of checking the firm's practice against the rulebook is one dimensional and highly reactionary in its output. What firms now need is to challenge this by using pro-active and strategic compliance solutions and ask the 'so what' and 'what's next' questions.
To do this Model Office – MO was launched a #RegTech platform in February 2017 to allow users to diagnostically assess performance against all the regulations and professional development needs. MO now has over 75 users.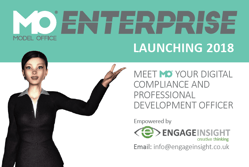 MO® our digital compliance Chatbot will now be launched to offer a highly engaging experience, where MO® will interrogate the firms diagnostic compliance scores, the world wide web and FCA Handbook to provide tailored guidance and resources to support the firms on-going compliance needs and professional development journey.
Why a Chatbot?
We asked our users would they prefer an APP or a Chatbot to provide a more personalised approach to their compliance and business development needs. A Chatbot was found universally favourite and thus we then asked for gender, age, and personality preferences. What came back didn't surprise us: Female, younger, Para-legal type with a bubbly but not overconfident personality.
So MO® the digital compliance Chatbot will be launched February 2018. When MO® is launched she will:
Offer guidance and resources around all Model Office's 5 keys and key challenges such as File checks, Suitability, Product Governance, MiFIDII, GDPR
Provide interactive interrogation of the FCA handbook
Add more context around Model Office's steers and strategies produced to improve compliance scores across the 5 keys
Interact with a leading Practice Management technologies back office system to provide focused Management Information on key regulatory challenges such as Anti-Money Laundering, Know Your Client requirements and Product Governance
Give users unique access to a digital solution designed to improve compliance outputs and reduce regulatory costs
Please click the below icon link to MO's platform and learn more about MO today..
---