With the rise of Artificial Intelligence (AI) as a marketing and sales engine for various industries and it's potential to replace human labour, we are now entering an uncertain time for business and its people development.
What is clear within financial services, is that 'people need people' at certain times in the financial planning, wealth management and investment advice processes. Our research backs this up where we asked consumers the question; which investment service would you prefer? As you can see from the diagram there is a requirement for face-to-face service, but there is also the need for 'cyber-advice' and fully automated services.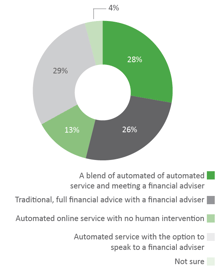 There is no doubt AI will become a major player over time within consumer interaction with the financial services industry. Other industries are testament to this. You only have to look at the innovation within the automotive market to see BMW using AI to market its new hybrid car and tech giants Google and Apple focusing on driverless cars. This along with AI tech used in self-prescription within healthcare means there is inevitability about the whole thing. So what's the risks?
Well firstly we need to focus on what we currently have. Presently good technology acts as an enabler tool where cash flow modelling, attitude to risk algorithms can provide meaningful data for advisers and wealth managers to prescribe solutions based on this evidence.
With the need for face-to-face there is also the issue of intuition, or (as psychologist Herbert Simon puts it) recognition. He writes:
"The situation has provided a cue; this cue has given the expert access to information stored in memory, and the information provides the answer. Intuition is nothing more and nothing less than recognition".
This sense or recognition based on previous experience (otherwise known as heuristics) can skew actions. There is evidence that financial advisers, for example, transpose their biases onto the client recommendations they provide.
What we humans and industry experts have also to contend with is 'will depletion', we get tired throughout the day, this means lack of energy can have a detrimental affect on decisions and actions. This is Google car's USP, they write:
"A self-driving vehicle can pay attention to all of these things in a way that a human physically can't – and it never gets tired or distracted".
So who's the winner? Well presently we have to say although algorithms have the upper hand on emotion not getting in the way, they are only as good as the emotive human beings who built them.
Having built Model Office's algorithm which is designed to offer steers and nudges for retail investment forms to improve professional development we would argue, that there is a need to blend the data with intuition and experience. This is called evidence-based practice and is at the heart of MO's design. To access MO's capabilities please click on the below icon: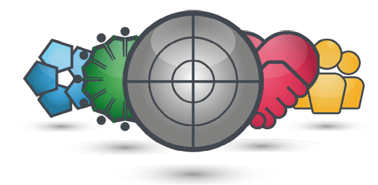 Please click the below icon link to the platform and learn more about MO today..
---